Sant Hari Dass Ji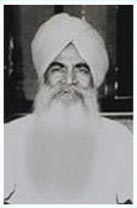 Shri 108 Sant Hari Dass Ji Maharaj was the third Gaddi-Nashin (spiritual leader) of Dera Sachkhand, Ballan. Sant Hari Dass Ji was peace-loving, social reformer, visionary and divinely enlightened saint. He was born in 1885 in the family of revered father Hukam Chand Ji and mother Taabi Ji at village Garha near Jalandhar. His parents were religious minded.
He cherished to find an enlightened guru. He heard fame of Baba Pipal Dass Ji. He visited village Bal. In those days Satguru Pipal Dass Ji was staying in a small kutia(hut). After Meeting to Baba Pipal Dass Ji He felt that he had found an enlightened guru. Sant Hari Dass Ji prayed for naam-daan. Baba Pipal Dass Ji blessed Hari Dass Ji with naam-daan. For most of the time Sant Hari Dass Ji remained absorbed in meditation.
He used to visit Dera frequently and stayed there for days together. He also developed affection and regard for Sant Sarwan Dass Ji.
On the direction of Sant Sarwan Dass Ji, he laid foundation stone of Shri Guru Ravidass Janam Asthan Mandir, Seer Govardhanpur, Varanasi on 14 June 1965. This is a 7-storey temple today. Devotees from all corners of India and abroad throng to this sacred place. Sant Hari Dass Ji stayed at Varanasi for some days after laying the foundation stone.
After Joti Jot samai of Sant Sarwan Dass Ji on 11 June 1972 Sant Hari Dass Ji became third Gaddi Nasheen of the Dera. He started construction of temple in the sweet memory of Sant Sarwan Dass Ji on 10th August 1972. It was completed in short span of period. It was inaugurated on 11th June 1974. Idol of Sant Sarwan Dass Ji was installed in the temple on that day.
He built a 5-stroey temple in a sweet memory of Sant Sarwan Dass Ji at Dera Ballan. Satsang Hall was also constructed in the Dera.
Sant Hari Dass Ji left for his heavenly abode on 6th February 1982