Sant Garib Dass Ji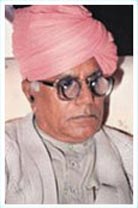 Sant Garib Dass Ji was born in the year 1925 in a village called Jalbhe which is in Jalandhar District. His father was Shri Nanak Chand and mother Shrimati Har Kaur Ji. He used to visit Dera Sachkhand Ballan occasionally. The teaching and ideology of Sant Sarwan Dass Ji impressed him greatly. So he started coming to the Dera more often. Within a short period he won the heart of Sant Sarwan Dass Ji.
Some of the developments which took place during his lifetime are as follows:-
He laid the foundation stone Sant Sarwan Charitable Hospital - When Sant Garib Dass Ji became the Gaddi-Nashin (spiritual leader) of Dera Sachkhand Bal on 7th February, 1982 he wanted to construct a hospital in the memory of his Guru, for giving medical aid to the poor people. A milestone in the history of the Dera Sachkhand Ballan was created on 22nd October, 1982 when Sant Garib Dass Ji laid the foundation stone for Sant Sarwan Dass Charitable Hospital at village Dheypur-Koopur, Adda Kathar. This hospital made a humble beginning with it's inauguration on 1st January, 1984. oday it is a 150 bed hospital providing quality service in eight specialties at very nominal rates to the people who cannot afford costly medical aid. For those people who cannot meet even the nominal rates, the expenditure is met by Dera Sachkhand Bal. Additionally all expenditure of capital nature such as machinery or building extensions is met by the Dera.
Begumpura Shaher Weekly Printed Newspaper - Sant Garib Dass Ji also realised the importance of having a newspaper, which would serve the cause of the community. So he started a weekly named 'Begumpura Shaher', thus giving a voice to the poor people and With a view to propogating the philosophy of Shri Guru Ravidass Ji he started a Weekly Publishing Newspaper " Begumpura Shaher Weekly Newspaper " on 1991. It is printed since 1991 and Its also updated weekly at website www.begumpurashaher.net
He laid the foundation stone of Sant Sarwan Dass Memorial teaching Block in the Industrial Training Institute ( ITI Collage ) at Phagwara and got a spacious hall built there by Dera
Yatri Niwas at Dera - During his lifetime the Langer Hall and major portion of Yatri Niwas at the Dera were built.In this Building Four Big Hall and 26 Rooms with Attached Bathrooms had been constructed for the Facility of Deveotees, and New Plots were purchased purposely for the Smagams during the Lifetime of Sant Garib Dass Ji
In the Memory of Sant Sarwan Dass ji , a Beautiful Gate had been built at Jalandhar-Pathankot road which goes to Dera Sach Khand Ballan, and this road is also known as Sant Sarwan Dass Marg. Sangat (Devotees) From Ballan and from Aborad also supported this with remarkable support. And it was inaugurated in the Presence of Sant Garib Dass Ji and also in the Presence of the Sangat ( Devotees ) of nearby Villages and England, America and Canada on : 11 June 1194 in the Morning Time.
Wolverhampton, Strud Cantt, Southhampton and in many other Abrod Cities Mandirs were laid and inaugated by Sant Garib Dass Ji.
Maharaj Ji used to Travel Abroad to Give Darshan to the Sangat (Devotees) Maharaj Ji Travelled to England Six times and Three Times America and One time Canada From 1985 to June 1994.
During his lifetime, He paid a historic visit to the Mandir along with a number of Dera followers on 1994. One month after returning from Varanasi, he left for his heavenly abode on 23rd July, 1994.